Our dental team welcomes you to Steven A. Beuligmann, DDS Inc! We look forward to caring for you and your family when you visit our skilled dentist, Dr. Steven A. Beuligmann. Our team is friendly and compassionate, as well as knowledgeable and experienced. We welcome you to contact our dental office in Carlsbad, California, today to learn more about us and to schedule your next appointment. We are eager to improve your smile!
Laura C. – Office Manager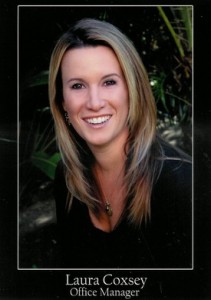 Laura started with Dr. Beuligmann as a part-time front office administrator in 1999. During that time she attended UCSD and obtained her Bachelor of Arts degree in economics. She graduated in the top 15% of her class, earning her a membership in the Golden Key Honor Society.
Laura briefly left Dr. Beuligmann's office to pursue a career in Sales but found that she missed the health care field and the family-like atmosphere of our office. She has currently been the office manager since June of 2004 and handles all insurance and billing questions.
Her main hobbies are traveling, reading, shopping, and any activity that involves water. Laura also enjoys home renovation projects with her husband and has two small daughters who keep her busy.
Ceri Ann S., RDA – Front Office Administrator & Registered Dental Assistant
License #62808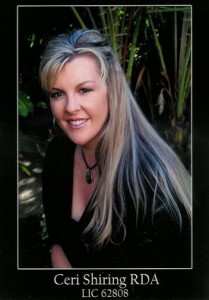 Ceri has been the longest standing employee with Dr. Beuligmann, joining his staff in May 1997.She has been a fixture here and patients love her.
Ceri went to Southern California Regional Occupational Center (SCROC) for dental assisting and graduated in 1985. She began working in an orthodontic office for two years and was a patient of Dr. Beuligmann's at that time. She eventually made the transition here and was Dr. Beuligmann's full-time dental assistant for many years. With the arrival of her two beautiful children, Garett and Jaiden, Ceri cut back her work schedule to two days a week. She now works front and back office and has her Registered Dental Assistant license. She is invaluable to our office.
In her off time, Ceri and her family enjoy camping, traveling, shopping, and sports.
Marie Walter – Front Office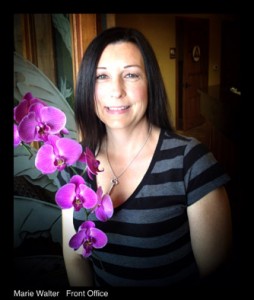 Marie is the newest member of our staff, joining us as a temporary front office fill-in while Laura was away on maternity leave in February 2012. Our staff and patients were so happy with her that we decided to have her join us full time. For now, she works in our office Friday mornings, giving her the nickname "Girl Friday." We are hoping to expand her hours in the near future as she has been a wonderful addition to our office!
Marie graduated from Bryman Dental College as a Certified Dental Assistant in 1987. She worked in the dental field for 12 years, beginning with assisting and eventually transitioned into front office management. She took a break from the dental field in 2000 to raise her four beautiful children.
In her downtime, Marie loves spending time with her family, home decorating, and participating in church activities.
Tracy Croxen, RDA – Registered Dental Assistant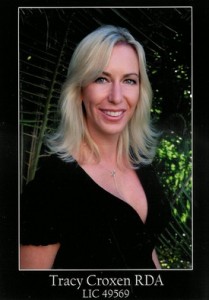 Tracy graduated from Palomar College, receiving her Registered Dental Assistant (RDA)  license in 1997. She has been working in the dental field since 1995, where she started out as an assistant in Dr. Paul's periodontal practice.
Tracy has been Dr. Beuligmann's head RDA since 2000. She continues to take ongoing educational courses to keep up to date in the newest technology, products, and services. Tracy is an expert in her field and we are lucky to have her.
Tracy spends her downtime with family and friends. She enjoys vacationing with her husband and young daughter as much as possible, and she loves spending time in Big Bear and at the river.
Sandra Valadez-Derby, DA – Dental Assistant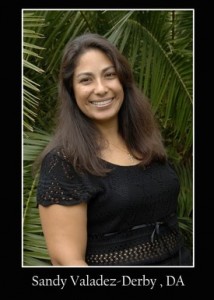 Sandy joined our practice as a dental assistant in January 2006, and we are happy to have her here. She has her X-ray license and takes ongoing educational and training courses with the rest of our staff.
Sandy has 8 years dental experience working for Hohner Dental Lab in Vista. She took a few years off to raise her two beautiful daughters, Jami and Jessi, and is now ready to come back to the dental field.
Away from the office, Sandy enjoys spending time with Scott, her husband of ten years, and their two daughters. They love watching the Padres and going to their girls' softball games for CSA. She is also a Girl Scout leader for her daughters' troops. A longtime resident of Carlsbad, California, Sandy knows the community and its residents well.
Jan Archimede, RDH – Registered Dental Hygienist
License #3479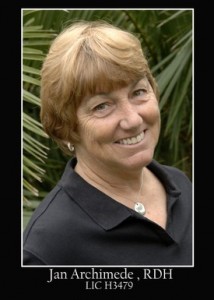 Jan received her Registered Dental Hygienist license from Diablo Valley College and went on to get her license for expanded functions at San Jose State University. She has been in the dental field for over 30 years.
Jan began in a dental practice up in the Bay Area where she used to live. She moved down to San Diego to be closer to her daughters in January 2003 and has been with our office ever since.
Jan stays updated on new techniques, products, and services with continuing education courses. She has also developed a website to help keep patients educated on the importance of good dental hygiene. You may visit it at http://www.geocities.com/flossboss.geo. She brings an enthusiasm with her in everything she does!
When away from the office, Jan enjoys spending time with her three grown children and their families. She is a soccer fanatic who has been playing for over 30 years and received a gold medal in the World Masters Games Summer of 2005. She also loves to travel.
Karen Kushner, RDH – Registered Dental Hygienist
License #22831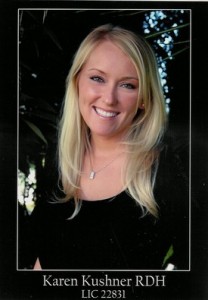 Karen received her Registered Dental Hygienist license from Cypress College in May 2006, where she graduated in the top of her class. Karen began her work in the dental field as a sterilization technician at 16 years old. She obtained her Registered Dental Assistant license in 2004 and has worked for over 9 years in many different capacities in the dental field. It is this vast array of experience that makes her such a great asset to our practice. Karen joined Dr. Beuligmann's team in February 2007 and we are so fortunate to have her!
Like all of Dr. Beuligmann's employees, Karen stays updated on new techniques, products, services, and healthcare standards with continuing education courses.
In her downtime, Karen loves the outdoors, family, running, shopping, and movies. Karen is the office newlywed, having married in June 2012.