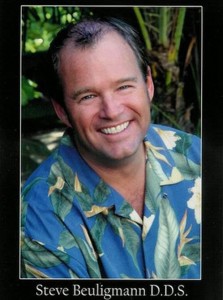 Steven A. Beuligmann, DDS
General Dentist – License #034469
Dr. Beuligmann received his Bachelor of Arts degree in Biology/Microbiology at UCSD in La Jolla, California. He then went on to obtain his Doctorate of Dental Surgery (D.D.S.) at Emory University in Atlanta, Georgia. Dr. Steven Beuligmann began practicing in 1986 in La Jolla, California, and moved his practice to Carlsbad, California, in 1993. He is active in the American Dental Association, California Dental Association, and San Diego County Dental Society. Throughout his 20 plus year career Dr. Beuligmann has acquired a solid foundation of continuing education and clinical skills in cosmetic and restorative dentistry.
When not at his practice, Dr. Beuligmann enjoys family outings, going to the beach, snow skiing, and travel.
"We look forward to meeting you and are anxious to begin building a patient-doctor partnership with you that enhances your dental health and personal well-being." Steven Beuligmann, DDS (Dr. B)